Hardy vs Serrano: A Pair of Eastern Conference All-Stars Are Ready to Clash at MSG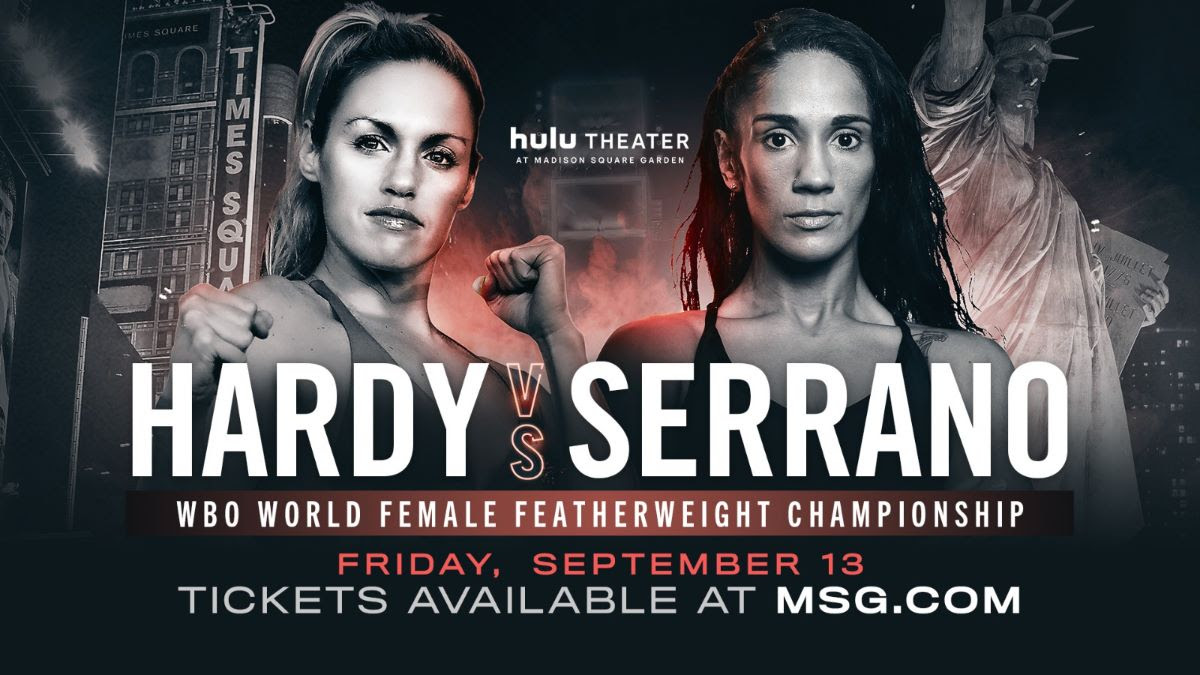 Sound For Sound is a recurring column that further explores the relationship of rhythm and boxing by celebrating the music that influences and motivates fighters as they prepare for, and to excel under, the game's brightest of lights
WBO Featherweight champion Heather "The Heat" Hardy defends her crown against seven-weight World ruler Amanda Serrano in an all-Brooklyn affair at Madison Square Garden's Hulu Theater this Friday
With Las Vegas-based Lightweight sensation Devin Haney making his Madison Square Garden debut this Friday night, his bid for the Interim WBC title against Zaur Abdullaev is a major driver of the matchup's international appeal. The clash between WBO World Featherweight champion Heather Hardy and seven-division champion Amanda Serrano solidifies the interest of the local boroughs, if not one in particular – Brooklyn.
Hardy (22-0, 4 KOs) and Serrano (36-1-1, 27 KOs) – two of Kings County's finest fighters – have circled each other for a while, and promoters Lou DiBella and Eddie Hearn finally delivered the bag to make the bout work for both women. The two standouts aren't exactly teammates, nor are they joining forces, but as with most of the intriguing women's bouts, they will be fighting for a wider acceptance of women fighters.
Friday night fans around the world will jump on board if the two replicate anything close to the drama created by Lightweight title holders Katie Taylor and Delfine Persoon, both Europeans, during their gritty June 1 undisputed bout. Taylor's controversial win had a shot at being the night's biggest story until the seventh and final round of the Heavyweight unification title fight Anthony Joshua vs Andy Ruiz Jr. Based on the built-in local popularity, expect the energy of the Retropolitan's denizens to be heightened well before the flashpoint of Taylor-Persoon.
Starting around early January, one of Brooklyn's current most prolific pensmiths Skyler Taylor – regularly contacted as Skyzoo for his services – began providing progress updates, via a series of social media posts, regarding a joint project with legendary hip hop producer Pete Rock.
View this post on Instagram
Subsequent Instagram posts concerning Retropolitan steadily fueled the interest of hip hop's most discerning listeners, and the enthusiasm spilled over in mid-August when Sky posted a snippet of the official single entitled "It's All Good". Hope you took the time to read the IG post's caption to notice the "illmatic" backstory. 
Avid fans of 90's hip hop rejoiced, but Skyzoo's preceding IG post revealed a tracklist that included something beyond eye-catching for the No. 11 track. "Eastern Conference All-Stars" included a line-up of featured emcees that, frankly, was above any starting five the New York Knicks ever assembled. Sorry Sky. Fans everywhere, excluding FOX Sports' Undisputed co-host Shannon Sharpe, eagerly awaited the lyrical highlight reel full of plays by Benny The Butcher, Conway, Elzhi and Westside Gunn.
Skyzoo's opening verse addressed the accolades of Serrano and her stellar trophy case with:
It's like I'm Illmatic sitting on loop
Meets Mortal Kombat finishing moves
You seen what the genesis do
And the endings is Jordan-esque or
Whichever way that the play goes
'Cause six joints will get you whatever, I came as Thanos
I threw you jewels with an NYCHA flow
Blue and orange signs like I was on Dolan's payroll
Hardy, nicknamed "The Heat", hasn't always had the same level of backing as Serrano, so her MMA record of two wins and two losses is indicative of her fire towards competition. In the song's No. slot, Benny The Butcher raps his world-class ability, being acknowledged by the likes of Jay-Z, while still maintaining his same hunger.
Nobody rhyme this dominant, honest, probably since Hova
Crown me kindly I'm known as the blueprint finally decoded
Proud to be noticed, watch me, all this grinding got me promoted
We clay statues poverty molded…
Fans want classics, the suckers want passes
Hustlers don't want much, just comfortable traffic
All these rap n—-s get is comfortable caskets
No subliminals, I'm shooting hunting bow accurate
Let's go, who run the city the most?
Me and Sky shot up the club like Diddy and 'Po
I be at your front door if it really was smoke
Serrano, 30, is the younger of the two and possesses one of the more impressive knockout ratios in women's boxing. Hardy is 37-years old and who has competed at the Featherweight limit of 126 pounds the four years, while Serrano dropped down from 140-pound title defense in September 2018 to fight for 115-pound title this past January. In addition to spending time focusing on other disciplines to compete as a mixed martial artist, Hardy also maintains a regular job according to a few interviews on Sirius/XM's Fight Nation's boxing show "At The Fights".
Serrano's division-hopping is unprecedented in men's boxing, so maybe there's an opportunity for Hardy to perform at a more consistent level throughout the bout if the younger fighter experiences any comfort issues.
The contest should be hard-fought for all 10 rounds, and provided there's a solid decision and/or definitive winner, the victor will be able to make the same bold claims as Conway in his verse:
Everyone talking whose the best s—, all of y'all can stop it
For two years I recorded the hardest s— that's rockin'
Verse of the year on like all the s— I jotted
I raised the bar then I linked with Marshall in the process (HAAA!)
Or, maybe we will have seen a master-class performance that reveals a stark contrast in skill levels such as Elzhi's  chess reference with:
I spit that hot tamale wasabi mixture, that's a Rob Zombie picture
Stop playing checkers with Bobby Fischer
And just embrace it, I made it to the top floor out the basement
Blew your advance on a bracelet
Trying to summarize Pete Rock's brilliance regarding the track's production just seems senseless. Enjoy Haney-Abdullaev, and be sure to catch Hardy and Serrano put on a show. Until Retropolitan drops on September 20 lose yourself to Sky, the Griselda crew and El's brand of high-scoring, deadly-shooting, position-less, motion-style offense.
All of the action takes place at the Hulu Theater at Madison Square Garden on Friday September 13, live on DAZN in the US and on Sky Sports in the UK. The night also includes a Heavyweight attraction with Michael Hunter (17-1, 12 KOs) defending his WBA Intercontinental title versus challenger Sergey Kuzmin (15-0 11 KOs).
All photos by Ed Mulholland/Matchroom Boxing
All song lyrics verified with genius.com